Employee ownership…
The secret sauce that makes RobbJack special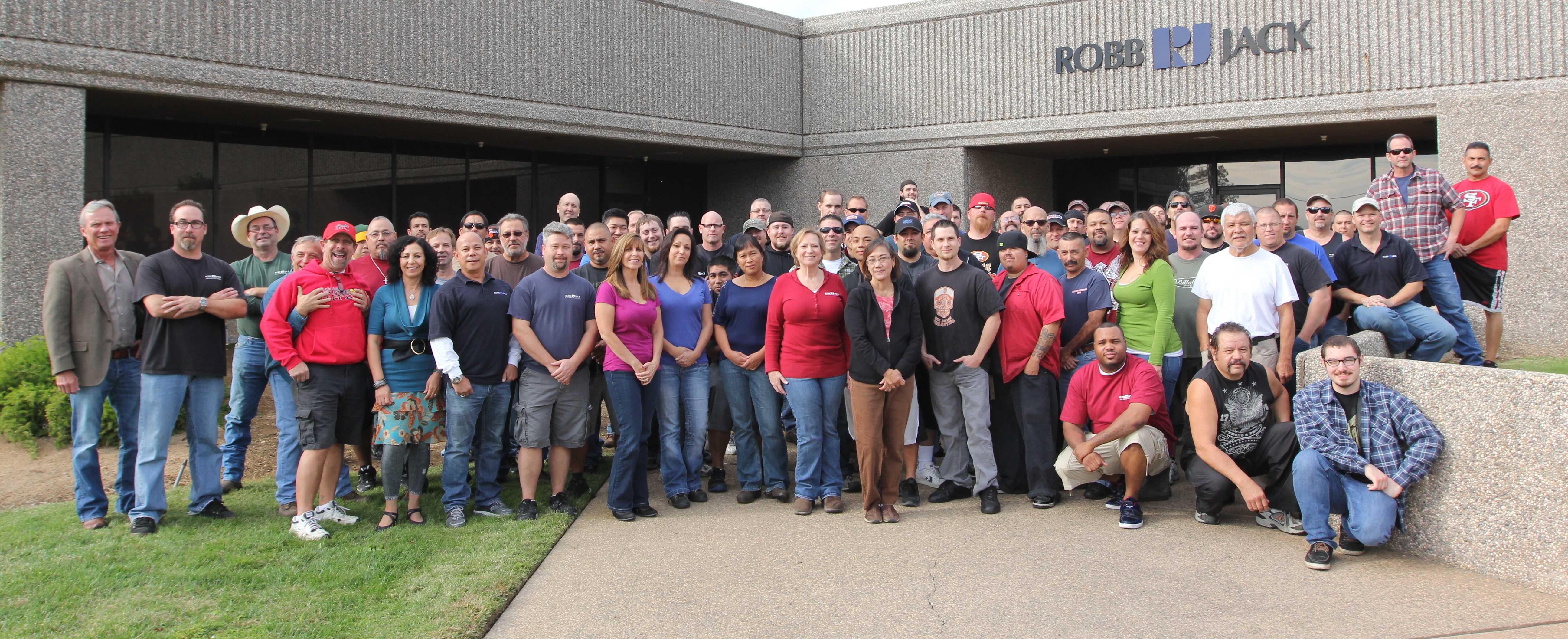 As an employee-owned ESOP since 1981, RobbJack Corporation team members are committed to our mutual success through excellent customer service, continuous improvement, personal growth and learning, and…well, just plain fun.
Our Culture
Located in the small community of Lincoln northeast of Sacramento, we've absorbed the relaxed, family vibe of the area. Walking through the shop you're just as likely to hear fishing tales, thoughts on the Niners game or weekend rodeo, and coaching advice on kids softball…as you are team members celebrating a winning solution for one of our customers.
RobbJack's Lean Manufacturing transformation began in 2010 with the introduction of tools and concepts for efficiency and standardization. Lean is now less what we do, and more about who we are. Teams drive continuous improvement of products and processes as a normal, everyday way of doing business. Our goal is to provide the finest-quality products and services to our customers and to do so more efficiently and economically than our competitors.
There's a reason why so many employees have been here 20+ years: it's our culture.
Benefits
As an ESOP company, our employees are shareholders with the means of accumulating significant equity holdings. They have an opportunity to reap the rewards of ownership through our combined team effort, good work habits, efficiency and conservation. As we all learn to work smarter and improve productivity, our ability to compete in our market also improves.
RobbJack has developed a comprehensive set of employee benefit programs beyond the ESOP to supplement regular wages, representing a hidden value of additional income to our team members.
Generous Paid Time Off (PTO) plan up to five weeks
Six paid holidays
401K Qualified Retirement Plan match
Medical, dental, and vision insurance contribution
Performance bonuses and Lean incentives
Night shift premium
Learning and Development
We train good people to make great tools, then develop good toolmakers into great problem solvers, coaches, and leaders. Once you're a proven contributor in one area, you'll be cross-trained on other machines for different product lines. This increases our ability to flex in response to varying customer demand, ensuring the fastest possible delivery times, while giving team members increasing challenges and opportunities to demonstrate added value.
Current Opportunities
Ready to join the RobbJack family? Give these opportunities a look and send us your application!