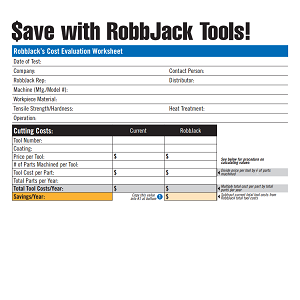 Save With RobbJack!
RobbJack tools are known for their long life, often outperforming and outlasting competitors on a scale of four to one. This not only lowers tool cost over time, but also increases factory productivity since the tools spend more time in operation and less time being replaced.
Use this form to easily calculate your actual savings when applying our tools to your specific applications. Download a printable PDF here. Download this Excel version .xls that does all the calculations for you! (Requires MS Excel)
Please contact us if you need any assistance.