When it comes to machining titanium, RobbJack demolishes the performance of other tools. One RobbJack XF cutter machined three complete aircraft flap track parts; it took the competition five tools to machine just one part. Get 15X more life with faster feed rates and better finishes. That's the RobbJack difference.
Search for a titanium tool now!
Titanium Machining Tips and Tricks
Titanium is ideal for improving fuel economy. It is increasingly preferred over aluminum for resisting heat and corrosion when in contact with carbon fiber reinforced polymers. Its high strength and low density make it ideal for jet engines, discs, blades, shafts and casings. Its hardness and heat resistance, however, make it notoriously difficult to machine. The extreme forces involved in machining titanium create a tendency for pullout to occur.
Made of RobbJack's Tuffy Grade Carbide, our XF-series end mills are engineered with a unique geometry to make tough hard metal jobs easy and efficient. One aerospace customer had been going through five competitor tools to machine just one airplane wing flap track. When they switched to RobbJack XF, they were able to machine three flap tracks with one tool, a 1500% difference. The speeds and feeds and cubic inch removal rate of the XF series is typically five to ten times faster than traditional machining. Contact RobbJack for your next high performance cutting tool.
The proper way to choose a Ti tool. Also programming techniques and more. Click here.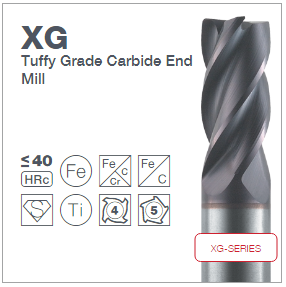 ---
Titanium Machining
High speed machining of 6″ x 4″ 1″ deep 6Al4V part using an XF-602-16-060 by Robbjack. 400 SFM 75 ipm at .050 radial width and 1″ axial depth using TrueMill by Surfwar,

High Speed Titanium
Titanium 6Al4V High Speed Machining with RobbJack XF Series Tools at Boeing

---
Titanium Catalog
Innovative carbide end mill solutions for high-temp alloys.  Download RobbJack's current Applications Catalog or click here to search for material-specific cutting tools.