RobbJack's speed and feed calculator will help you find the best end mill or slitting saw to cut your challenging material, and achieve the best outcome for your machining application
The speed and feed software uses algorithms that take into account the power required to machine materials in either horsepower (HP) or kilowatts (KW), and the maximum RPM of your milling machine along with the maximum feedrate. Just enter your tool diameter and total depth of cut. You can choose a slotting tool path or a profiling cut. There is another option for a trochoidal tool path, also know as high efficiency tool paths (HSM), used in newer CAD/CAM software for high speed machining operations. Note that many CAD/CAM packages use different terms for this type of machining. Here are some examples: Dynamic Milling used by MasterCam; Profit Milling used by Esprit HEM; Adaptive Clearing by Fusion 360, VoluMill and many other CAD/CAM systems.
The speed and feed calculator provides over 50 years of machining experience to give the best speeds and feeds possible. The program will recommend the ideal solid carbide end mill, slitting saw or PCD and diamond coated tool for your application. The software will also pick the best PVD coating for the job including AlTiN, TiCN, TiN, DLC, and diamond coatings. It will give you the recommended chip load per tooth (CLPT), feed rate, horsepower needed, axial depth of cut, and radial width of cut for both roughing and finishing. The results or inputs can be entered in Metric (mm, KW, mm/min.) or in inch mode.
Just click the "Sign In" button at the upper right of this page to create an account, and get started now! Have questions about how to make the most of Speeds & Feeds? Click HERE or on the image below for a quick video tutorial: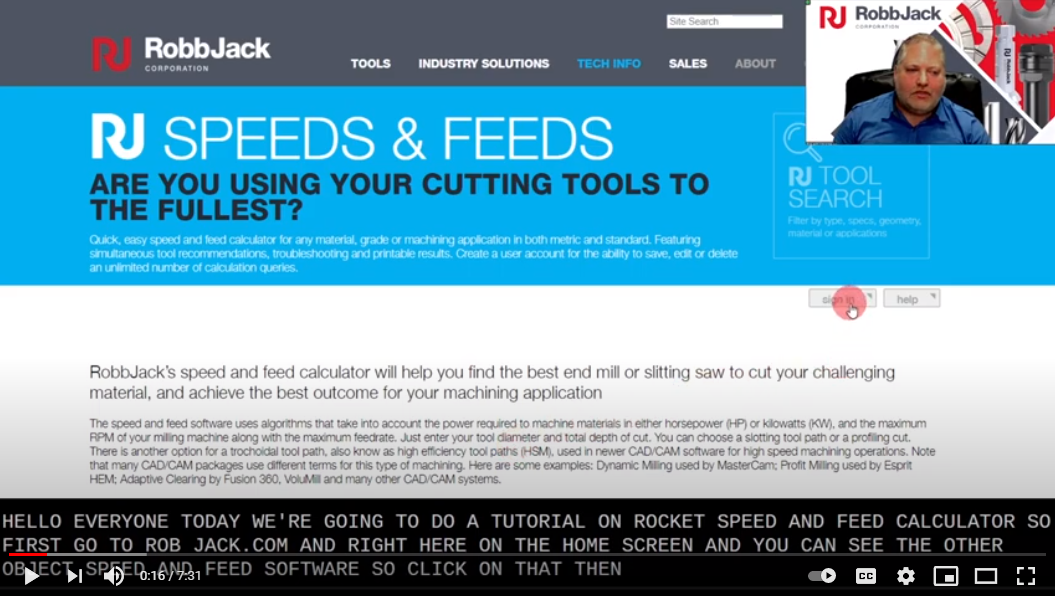 logo

SPEEDS & FEEDS
Login failed
Log in or sign up to access RobbJack's new Speeds and Feeds application.
Don't have an account? Sign Up
Need to reset your password? Click here
Quick, easy speed and feed calculations in seconds.
Need to reset your password? Click here
Already have an account? Log In
---