Solid carbide slitting saws are used in CNC milling machines to produce precision slots and cuts. Solid carbide is more rigid than standard steel and can withstand extreme heat when used in high-speed applications. These saws will quickly cut a variety of materials, such as steel, aluminum, copper, and alloy.
RobbJack supplies solid carbide slitting saws to our customers across many industries. Whether your application is aerospace, automotive, or general manufacturing, we know that our tools will get the job done. We pride ourselves on exceptional service, so if there are any questions you have about our saws, contact us today to speak to a member of our team.
---
RobbJack's revolutionary thru coolant saw arbors are precision ground to amazing tolerances and have 15 times the gripping force versus typical saw arbors. The thru coolant arbor must be used with RobbJack's thru coolant flanges. When used with thru coolant flanges coolant ports will be equally distributed on each side of the saw. This eliminates one of the most common failures when using solid carbide slitting saws.  Equal high pressure coolant is delivered to both sides of the saw and solves a major cause of saw damage and poor performance. The thru coolant slitting saw arbor is an amazing solution that will take the performance of your solid carbide saw arbors to the next level. Thru coolant helps to achieve faster speeds and feeds as well as consistent and extended tool life. If you have any questions contact applications@robbjack.com for any help.
---
Solid ER-style saw arbors have precision ground tapers and saw journals for unparalleled ease of use and advanced productivity. Snap groove fits into most standard ER clamping nuts for repeatable saw edge positioning with TIR held to 0.0002" or better.

---
Don't settle for a slitting saw that "gets the job done." Choose exactly what you need to do the job right. RobbJack offers an extensive selection of premium carbide slitting saws that deliver high speed, superior finishes and unsurpassed precision. Thicknesses are available from .002" to .250" with geometry in both course and fine teeth for aluminum, stainless steel, titanium and all machinable materials.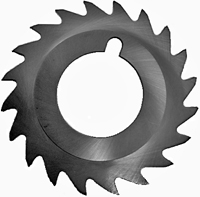 ---
Solid Carbide Saw, Arbor, and Tool Holder Assembly
How to Set-up a RobbJack solid carbide slitting saw, arbor, and tool holder for a CNC milling machine. This video teaches you how to assemble all the components to ensure success when cutting with a carbide saw.

---
Saw Tips and Tricks
Binding, slippage and high-torque cuts when using slitting saws? Are you making deep saw cuts or working with gangs of saws? What you need to know to solve your problems here.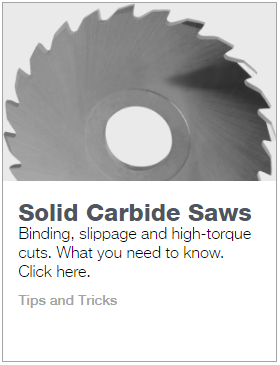 ---
Saw Catalog
Get the latest Saw application guide section here, or use the RobbJack tool search to locate your next Carbide Saw tool for your cutting and slotting applications!