Our Die/Mold HM series, made for hardened steel, offers the best tools for 3-D cutting of cavities and cores; ribs, helical bores or tight areas; and for straight walls, open areas and flat floors.
Search for a Die/Mold tool now!
Die/Mold Tips and Tricks
Hard milling applications in die/mold production are becoming more complex with tighter tolerances. To complicate the matter, poor tool life requires tool changes in the middle of a job that often result in scrapped parts. Are carbide or steel shank end mills better performing? How do you control heat? What's the proper programming technique? All this and more, Click here.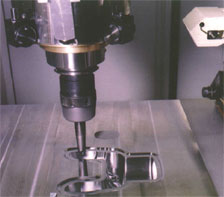 ---
Choosing the Right Tool
Learn what tools work best for different die mold materials. Click here.
Pre-hardened Materials (30-65 HRc)
Annealed or softer materials (less than 30 HRc)
Graphite electrodes for EDM.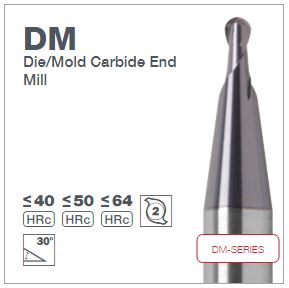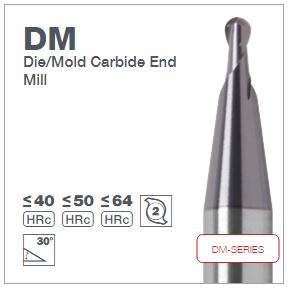 ---
Hard Metals Machining Videos
RobbJack HM-602-12 3/8-in diameter tool cutting a hardened metal cutting file at 125 ipm, HRc 65.

RobbJack High Speed Hard Metal Trochoidal Machining 54 HRc H13 Hardened Die/Mold material. Using a RobbJack HM-602-16 1/2″ diameter 6 flute solid carbide end mill at 125 inches per minute without coolant

---
Trochoidal Tool Paths
By using newer programming techniques, difficult material can be cut easily. Use smaller diameter tools to minimize the arc of engagement and control heat. Many newer materials entering the market tend to be more exotic and difficult to cut. Use specific cutter geometry for each application. By using trochoidal toolpaths and hybrid trochoidal toolpaths you can successfully machine these exotic materials. The Common Ground Between Moldmaking and Aerospace article in MoldMaking Technology discussed some advanced programming techniques, such as trochoidal toolpaths. Click here for an article that covers the topic in much greater detail.
---
Die and Mold Catalog and Tool Search
Download RobbJack's current Die/Mold Catalog here, or click here to search our online catalog!