Complex machining problems often require creative, custom solutions. RobbJack has been the "go to" supplier of solid carbide tools for over 50 years, with a proven history providing incredibly effective solutions.

RobbJack delivers special tools made to tight tolerances with application-specific carbide grades and geometries as an engineered solution. Our engineers partner with your product development team, providing robust support with timely feedback and innovative designs.  RobbJack custom and modified tools reduce or eliminate the need for secondary operations, and are known for their long life, often outperforming and outlasting competitors on a scale of four to one. Let our team help find the right solution for your challenging problem.
---
NEW – PCD Tipped Slitting Saw
Ultra-shear geometry for minimal burr in composites
Minimal delamination or uncut fibers
Re-tip and re-lap PCD tips at a fraction of new cost
1 pass replaces carbide saw taking 3 passes in carbon filled PEEK. PCD tool gives a 50:1 advantage in tool life.
Call RobbJack with your application requirements!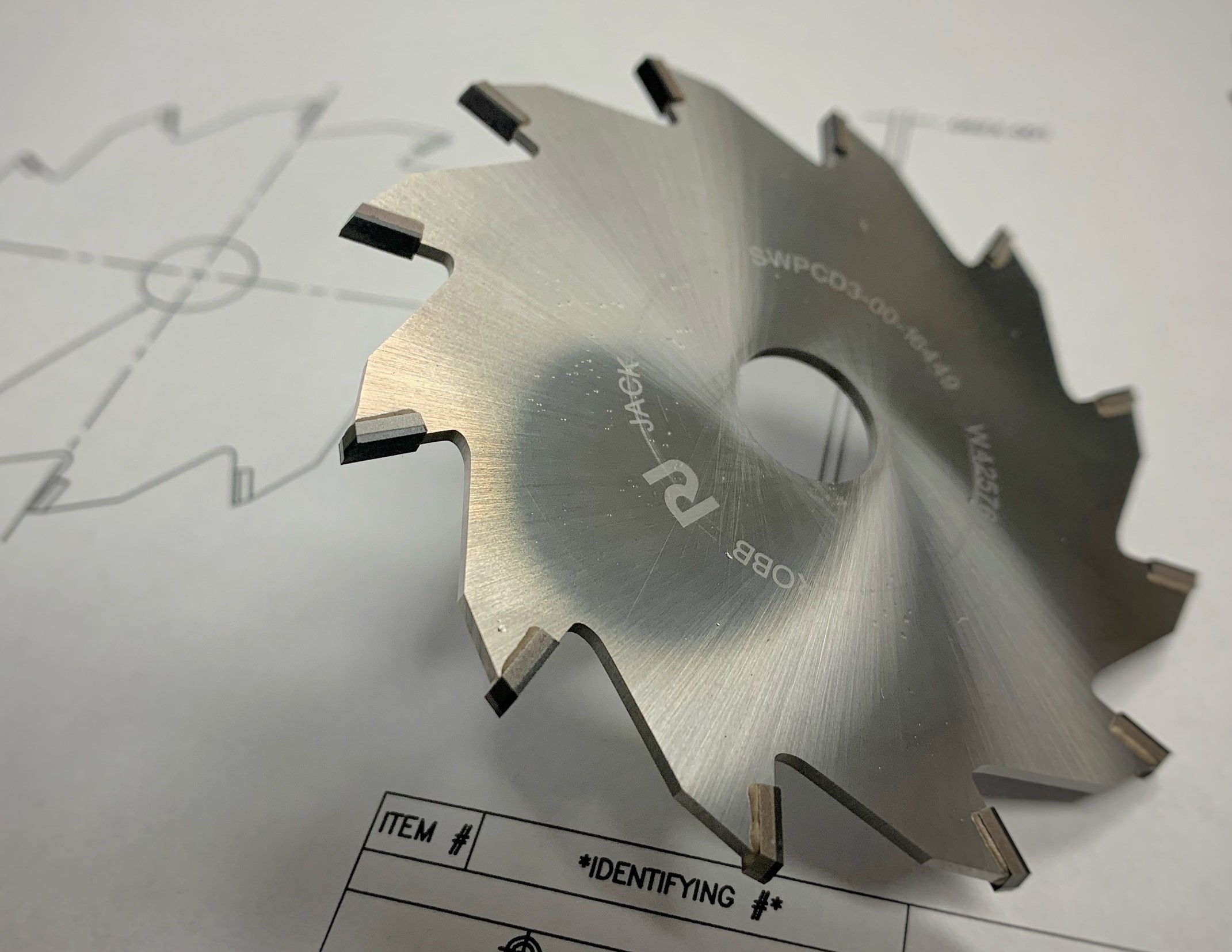 ---
NEW – PCD Hole Saw
PCD tipped/high rake geometry for ultra-fast cutting and clean cutting of composite materials
Minimal delamination or uncut fibers
Extreme tool life, including re-tipping and re-lapping at a fraction of the cost of new
Can cut cycle time in half over grit-style hole saws
Call RobbJack with your application requirements!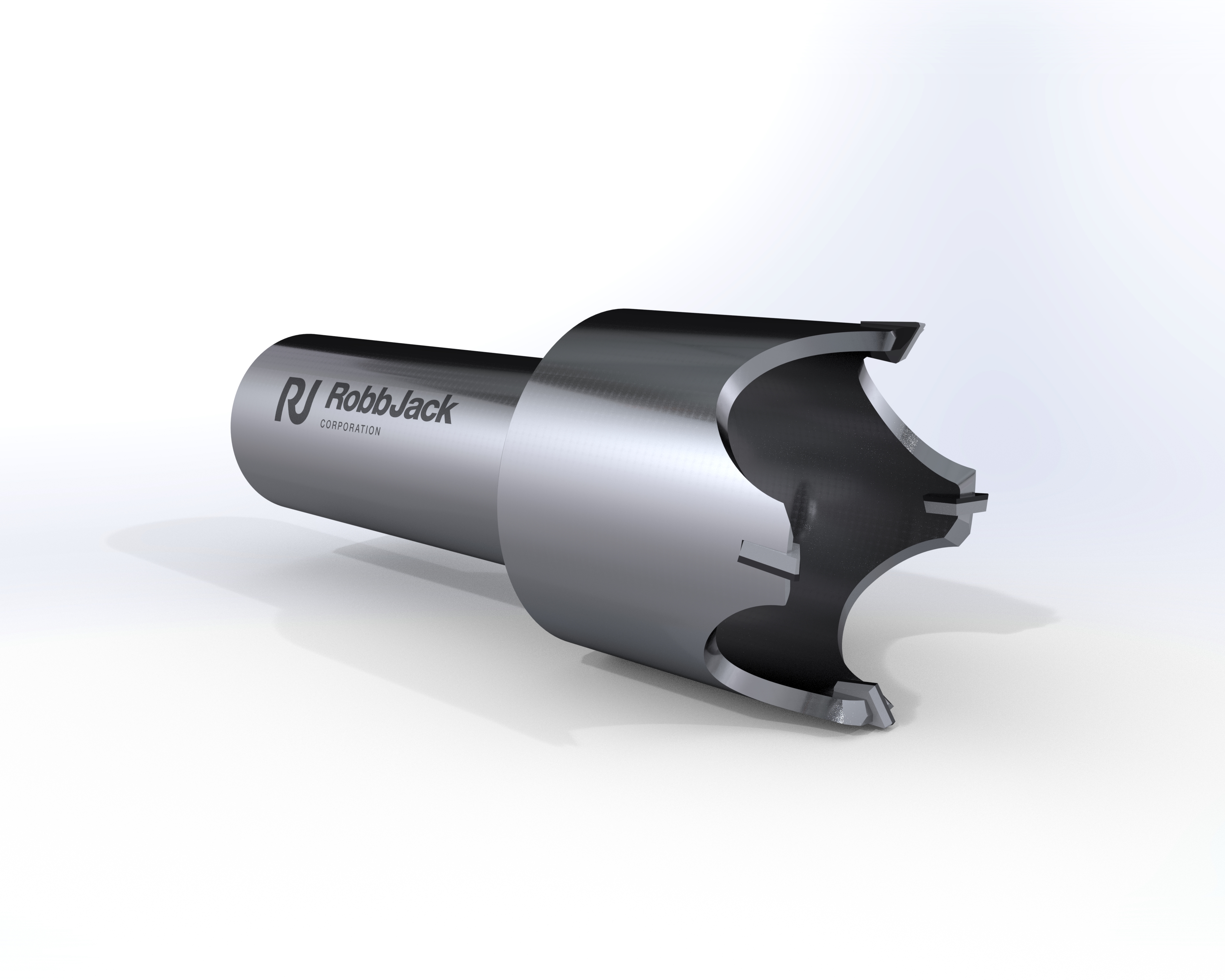 ---
Composites Dovetail
Combined 3 tools into 1
Eliminated trimming operation to match CAD file
Ability to diamond coat for Carbon Fiber Composites
Custom tool used for airplane structure parts
Bevels and trims in one operation
Reduced the cycle time by 5 days
Cost savings of $956,800+ per year

---
Composites Reamer Counter Sink
Used with aircraft Micro-stop tooling
Diamond coated for long life
Reams and countersinks in one operation
One-piece solid carbide design for tighter tolerances
Cost savings $38,000
---
Composites Perforation Tool
Sound reduction perforation tools designed for airplane engine nacelles
Diamond coated for maximum tool life
Makes up to 80,000 holes in fiberglass
Produce up to 40,000 holes in carbon fiber
$246,500 cost savings

---
Drill Reamer P810-R Series
Drill and Ream in one operation.
Diamond coating for superior tool life in abrasive materials
Used CNC and Manually
Eliminates delamination and uncut fibers in Carbon Fiber (CFRP) composites.
Can be made in down-shear versions for manual operations. This will stop the tool from pulling itself through the material when piercing through

---
Nut Plate Drills
Made from a single piece of solid carbide with revolutionary carbide threads
Increases tool life
Tighter tolerances
Eliminates TIR
Can be diamond coated because it is solid carbide

---
Threaded Solid Carbide Replaceable Tip
Made with problem solving geometries to eliminate chatter, variable helix, polished flutes, coatings, and application specific geometries
Can be used in many existing tool holders
Can be diamond coated
Best used in applications that would normally require long carbide tools

---
Custom Miniature End Mills
Miniature tools down to 0.003"
Tolerances in microns (0.000039"), smaller than a human hair
Hand-select diameters to nearest 0.0002"
Primary relief angles maximize quality machining performance
CVD diamond coating for certain applications
---
Custom Solid Carbide Slitting Saws
Special Rocket Engine Liner Saw Geometries
Specifically designed to cut thousands of slots faster than any other saw
Feedrates up to 400 IPM at depths 10x saw thickness