PCD diamond-tipped drills, end mills, routers, and saws provide a reliable solution to the unique challenges faced when milling and drilling composite materials. Our PCD tools will get the job done, whether you're cutting composite materials or non-ferrous materials, and will help you handle anything from delamination to uncut fibers.
RobbJack supplies PCD-tipped drills to our clients all over the country and in several industries. We've worked with applications in the aerospace, automotive, medical, and manufacturing industries, and we have the experience necessary to recommend the right drill for the right job. If you have any questions about our polycrystalline diamond tools, don't hesitate to contact us; one of our expert support team members will gladly give you assistance.
---
NEW

– PCD Form Tool
Designed to rout profiles and pockets in thin carbon fiber panels for high tech backpacks
Benefits are better finishes with less fraying and fiber pull out
Profile design and excellent finish saves hours of time hand sanding and finishing
Lasts 10x longer than carbide or diamond coated
Sizes available from 0.125-in diameter up to 1.00-in diameter
Custom sizes available by request

---
NEW

– PCD Tipped Slitting Saw
Ultra-shear geometry for minimal burr in composites

Minimal delamination or uncut fibers

Re-tip and re-lap PCD tips at a fraction of new cost

1 pass replaces carbide saw taking 3 passes in carbon filled PEEK. PCD tool gives a 50:1 advantage in tool life.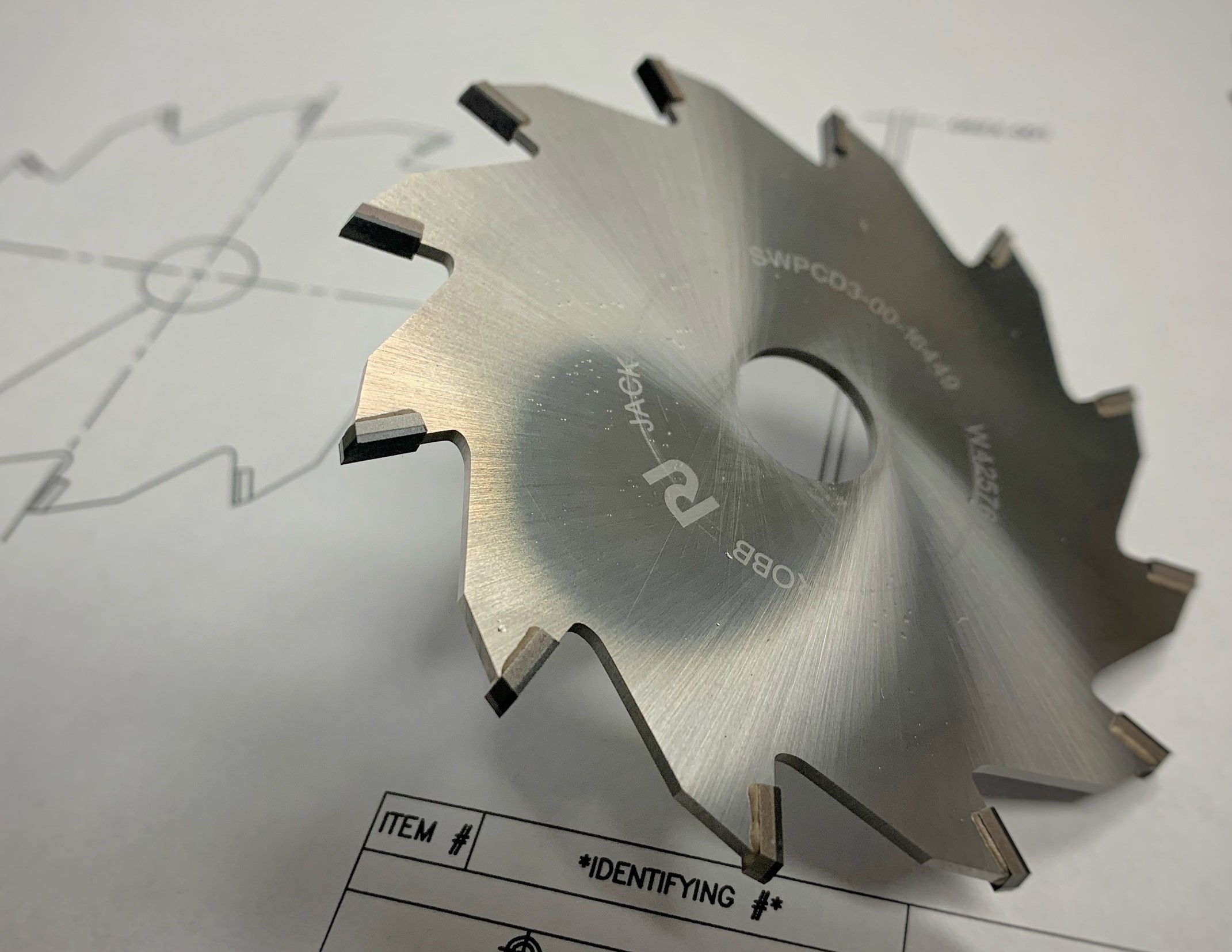 ---
NEW

– PCD Hole Saw
PCD tipped/high rake geometry for ultra-fast cutting and clean cutting of composite materials

Minimal delamination or uncut fibers

Extreme tool life, including re-tipping and re-lapping at a fraction of the cost of new

Can cut cycle time in half over grit-style hole saws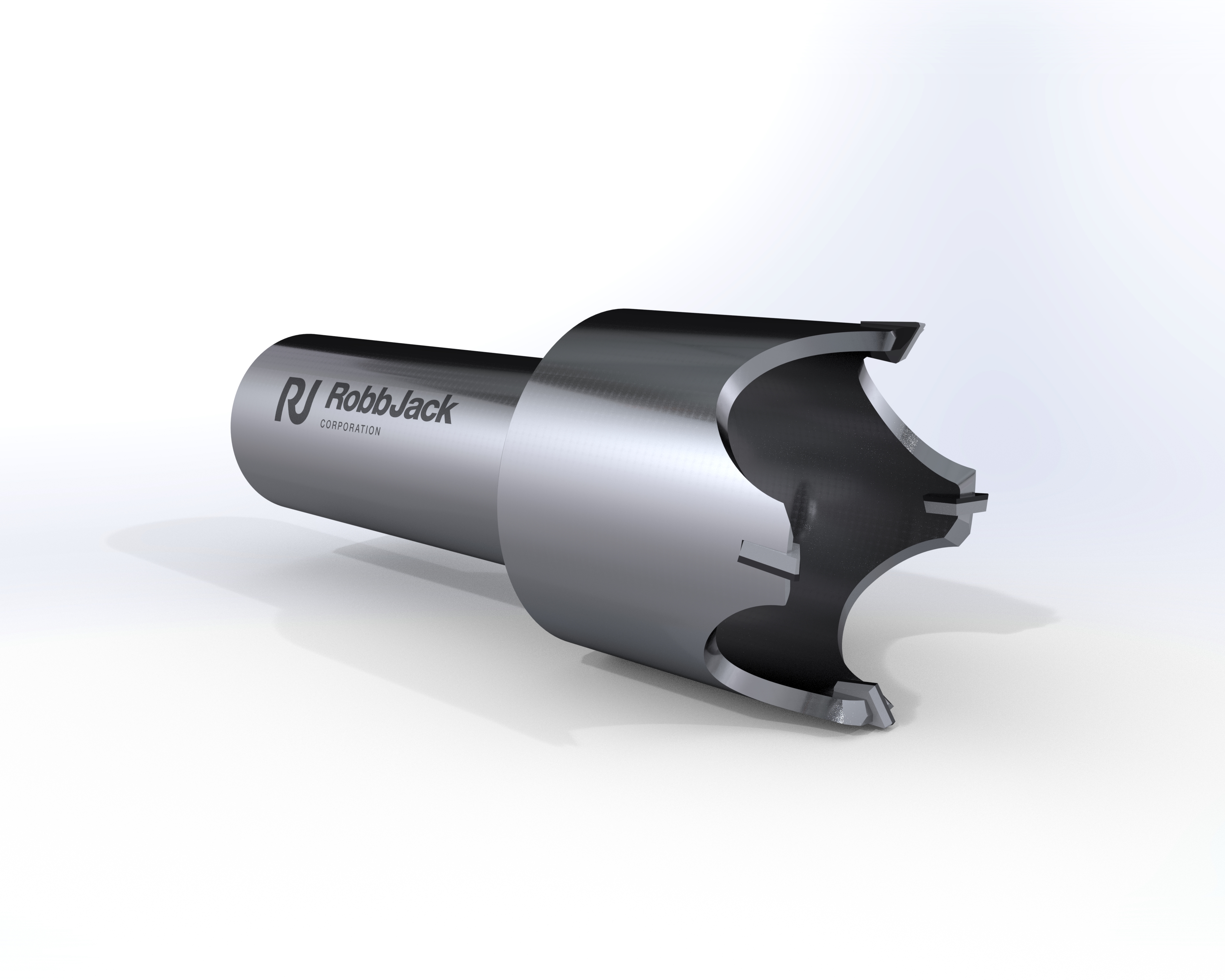 ---
NEW 

Single Shot PCD Diamond Drills for Carbon Fiber
RobbJack is utilizing a new and revolutionary technology in the manufacture of PCD tools. This new technology improves tool quality, PCD adhesion to the tool body, and increases heat resistance during cutting. All of these improvements allow tool performance that was once impossible.
New PCD diamond tip geometry

Best holes in carbon fiber

Drills and reams in one operation

Minimal delamination or uncut fibers

Extreme tool life

New 135º/20º 8 faceted tip design (Best drill for widest variety of carbon fiber)

$548,000 cost savings per year in wing spar case study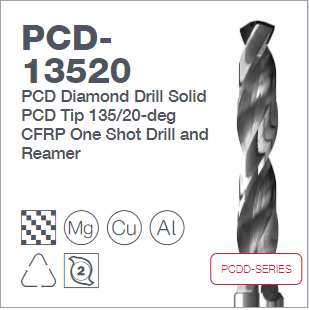 ---
4000 clean holes in tolerance when drilling
carbon fiber reinforced polymer (CFRP) wing spars
The Problem:
Prized for its high rigidity and strength-to-weight ratio, CFRP is notoriously difficult to machine without delamination, uncut fibers and fiber pullout. One manufacturer was going through 25 carbide drills to make one ship set of wing spars, scrapping many very expensive parts along the way. The process was intolerably costly and unstable.
Our Solution:
The solid PCD-tipped drill, designed specifically for carbon fiber composites. This powerful, newly developed tool had all the features needed to do the job right, including:
A solid polycrystalline diamond tip that outperforms diamond coating in materials with high plastic content, maintaining its edge longer

A sharp outer edge that cleanly shears the material without delamination, uncut fibers or fiber pullout

An innovative geometry that supports the material as it pierces through

A tool life 25 times longer than traditional carbide drills in CFRP applications—and can be extended even further with re-sharpening

---
Carbon Fiber PCD Trimming Tool
PCD-203-CF & CPCD-203 Series
These PCD routers are best used in trimming composite materials such as fiberglass or carbon fiber CFRP or abrasive materials. The CPCD series comes with a drill point that helps eliminate break out of the material when first plunging into the material. Can be used to rough and finish parts in a single pass eliminating cycle time and linear inches required to cut parts in abrasive materials.
Tool life in excess of 7,000 linear inches in carbon fiber

Drill tip eliminates fiber blowout during plunging on CPCD-203 Series

Roughs and finishes in a single pass

100% inspection guarantees repeatability

Typical carbon fiber speeds of 110 ipm

Cost savings $210,000 trimming carbon fiber aircraft panels
---
How to Machine Carbon Fiber
Many companies struggle with machining of new composite materials. Common problems are poor tool life, delamination of layers, and long cycle time. The presentation is set up to give tricks and tips to overcome most of the problems encountered machining modern composites. RobbJack's Mike MacArthur explains how to solve these issues in the webinar available HERE.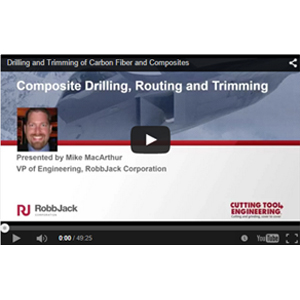 ---
Composite Tips and Tricks
Composite tools present their own special challenges, such as proper fixturing and vibration. And of course, it always helps to get the best tool for maximum life. Read the support article HERE for some tips and tricks.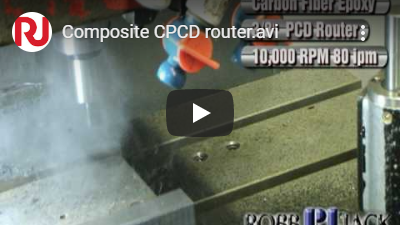 ---
Composites Applications Guide
Tools for working with composite materials.  Click here for the application guide, or search for composite cutting tools here.