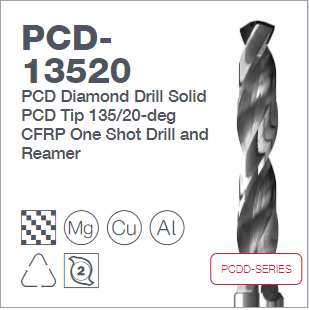 Carbon Fiber in Aircraft
CUTS CLEAN HOLES. SHREDS COMPETITION.
Abstract
When drilling carbon fiber reinforced polymer (CFRP) wing spars, an aircraft manufacturer struggled with poor quality cuts and expensive scrap until switching to RobbJack's new Single Shot PCD diamond drill.
The Problem
Prized for its high rigidity and strength-to-weight ratio, CFRP is notoriously difficult to machine without delamination, uncut fibers and fiber pullout. One manufacturer was going through 25 carbide drills to make one ship set of wing spars, scrapping many very expensive parts along the way. The process was intolerably costly and unstable.
Then RobbJack took on the challenge.
OUR SOLUTION: THE SINGLE SHOT PCD-TIPPED 135°/ 20° 8 FACET TIP, DESIGNED SPECIFICALLY FOR CARBON FIBER COMPOSITES
This powerful, newly developed tool had all the features needed to do the job right, including:
A polycrystalline diamond tip that outperforms diamond coating in materials with high plastic content, is a much sharper tool, and maintaining its edge longer
A sharp outer edge that cleanly shears the material without delamination, uncut fibers or fiber pullout
An innovative tip that drills and reams in one operation
A tool life 25 times longer than traditional carbide drills in CFRP applications—and can be extended even further with re-sharpening
The Result
The RobbJack PCD-tipped 135°/ 20° Single Shot Drill was the only tool that could meet the manufacture's exacting design and performance standards, cutting over 4000 clean holes in tolerance; other tools struggled to get 160 holes.
It completely stabilized and streamlined a previously difficult and wasteful process—secondary operations were no longer required
Just one PCD-tipped drill was sufficient to make a complete ship set of wing spars—a process that previously had gone through 25 lesser drills
The RobbJack PCD-Tipped 135°/ 20° Single Shot Drill consistently achieved clean, precise cuts. Plus, freed from the hassle and time of replacing worn drills, the manufacturer achieved increased capacity & throughput.