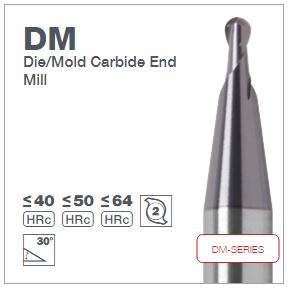 Increased Die/Mold Tool Life
ABSTRACT
The new carbide material and new coating combination in RobbJack's DM/MDM Die/Mold Carbide End Mill lasts 450% longer than comparable carbides and coatings designed for hard metal applications—and reduces wear by 909%.
THE PROBLEM
Hard milling applications are becoming more complex with tighter tolerances. Poor tool life requires tool changes in the middle of a job, magnifies difficulty and leads to scrapped parts.
THE TEST
Tests were conducted in D2 58 HRc, pitting comparable carbides and coatings against our new DM/MDM Die/Mold Carbide End Mills. We compared tool life and tool wear.

THE RESULT
Typical tools designed for hard metal machining had a wear land or deep notches of .0275". The new RobbJack DM/MDM series tool outperformed every test tool with a smooth wear land of only .0025". That's a whopping 909% less wear.
The RobbJack DM/MDM with revolutionary new carbide and coating lasted so much longer than any other tool we were able to cut molds in difficult material 450% longer—completely eliminating the need to switch tools midway through and hope for the best. The new tools generated less heat, held size, and cut the part within tolerance.
Additional Details
Better finishes that eliminate or reduce the need for polishing
Tighter tolerances and longer lasting in difficult areas like parting lines
Great for materials up to 70 HRc
Higher temperatures
Reduced cycle times
Excellent precision
Dry cutting ability
Before: Typical hard metal carbide grade and coatings for molds.

After: New revolutionary carbide grade and coating. "The one to get it done."