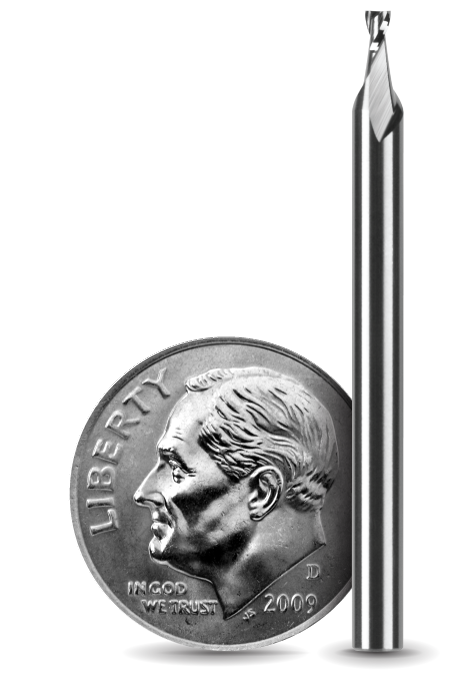 Micromachining
MICRO DEFINED
Miniature tool edge geometries may not be visible to the naked eye, but they're critical for machining quality and consistency. Diameters are available from RobbJack in every increment of .001.
Cutting diameters starting at 0.005"
Tolerances in microns (0.000039"), smaller than a human hair
Hand-select diameters to nearest 0.0002"
Primary relief angles maximize quality machining performance
CVD diamond coating for certain applications
MINIATURE APPLICATIONS
Micro-electromechanical Systems
Nanotechnology
Dental and Medical Appliances
Die/mold
Aerospace
Electronics
MINIATURE TOOL USAGE
Axial depth 25% of the tool diameter in Z-depth per pass
Use accurate tool holders.
Indicate the shank of the tool in.
MINIATURE TOOL MEASUREMENT
Don't use micrometers or calipers to measure tools. (use no contact measurement)
Use shim stock for tool length measurements
Get the most accurate and long-lasting carbide miniatures on the planet. RobbJack SS and SR-Series micro end mills—when nothing less will cut it.
View our SS tool series here.
View our SR tool series here.
Download RobbJack's current Miniature Guide here.
Find a RobbJack distributor here.